I began to play the drums at the age of seven. After moving to Denmark with my family in 1969, I began playing music professionally at the age of 15. My instruments are drums, congas, timbales, bongos and hand percussion. The styles I play range from Rock and Funk through Cuban, Brazilian, Fusion and Jazz.

Current bands and activities:
The Betty Quartet

The Betty Quartet is a new constellation of wellknown professional musicians from the Copenhagen music scene. Our quartet plays instrumental numbers – all composed by Betty Magnussen. The music – with its special melodic Nordic timbre – spans an emotional range from the melancholic to the upbeat, encompassing elements of Jazz, Latin, Fusion and Film Music. But most of all The Betty Quartet sounds like…The Betty Quartet.
Betty Magnussen: soprano sax
Rikke Schelde: piano, keyboard
Henrik Bjørn: Bass
Ethan Weisgard: drums and percussion
Salsa Na Ma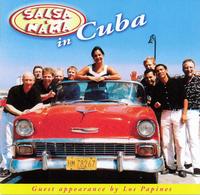 I began playing with Salsa Na Ma from its inception in 1978. Salsa Na Ma was the first genuine Salsa orchestra in Denmark. I went with the band to Cuba for the first time in 1983, for a one-month tour, starting in one end of the country and ending in Havana. We went back to Cuba with Salsa Na Ma in 1999 to celebrate our 20th anniversary. We recorded an album in Havana, and played to great acclaim in some of the best venues in the city. The CD we recorded is called "Salsa Na Ma in Cuba" and can be purchased through Slagtøjcentret (The Percussion Center in Frederiksberg).
Latin Vibes
We play luscious Latin-jazz, with a repertoire full of great songs, chosen from sources ranging from The Great American Songbook through The Beatles and beyond. Viva La Musica!
Morten Grønvad on vibraphone, Peter Danstrup on acoustic bass, Birger Sulsbruck on congas, and yours truly on timbales. We are extremely mobile, and geared for rapid deployment. Arriba! Andale, andale!
Copenhagen Happy Jazz
Traditional jazz in the good, old-fashioned style! Happy and swinging tunes played by people who love this type of music. Our bandleader is Arne Sørensen, on upright bass, Erling Haagensen on clarinet, Peter Madsen on trumpet, Niels Østergård Laursen on trombone, Kurt Bang on banjo and yours truly on the drums.
Freelance
Throughout my career as a drummer and percussionist I have had the honor to work with some of the best musicians Denmark has to offer. It has been a pleasure. I have had amazing experiences: playing a one-nighter with saxophone great Jesper Thilo's group, with Dizzy Gillespie as featured soloist. I have been called in at a minute's notice when Cuban bandleader Machito's son played in the old Montmartre, and needed a conga player. I played a concert at the Philharmonic Hall in Essen, Germany with Carla Bley and Steve Swallow, on a huge set-up with drums, latin-percussion and a forest of multi-percussion – combining latin, jazz and chamber music for a wonderful, magical mixture of music. I have "not" played with superstar Lionel Richie on a TV gig, where we, as the house band, had to play to the prerecorded music that he was singing to. Lionel Richie commented that he would much rather have played with us for real, he could hear that we were playing much to his liking, even though we were "unplugged!"
As a freelance musician, you really get to experience the wild, strange and wonderful world of music – what a joy!
For further information and for booking, please contact me at
Tel.: 4086 3212
Mail: ethan@weisgard.com
---

Drum and percussion lessons
I teach drums and percussion at all levels, from beginners to advanced. As well as having taught drums and percussion at the Ingrid Jespersen Gymnasieskole in Østerbro Copenhagen, I have taught at the Rhythmic Music Conservatory and The Royal Conservatory of Music in Copenhagen, and Århus Music Conservatory, teaching group classes as well as individual students.
I teach individual private lessons as well as group classes.
I am a student of Bent Lylloff. Bent Lylloff was one of the most highly esteemed percussionists ever in Denmark in the world of classical and modern classical percussion. Lylloff was a master of stick technique, and he specialized in the "matched grip" – the technique in which you hold the drumsticks with the same grip with both hands.
Being able to play all the different single- and double-stroke combinations with the matched grip was Lylloff's speciality. He had a very clear and precise method for teaching this technique.
I was a student of his for one and a half years, and the teaching that I received from him has been a great influence on the way I instruct my students in the important area of stick control. Stick control forms the base of all drumming.
Using stick control as a foundation for my teaching, I also work with my students on important areas such as coordination, improvisation and grooves in all styles of music – such as Latin (Cuban and Brazilian), Rock, Funk, Reggae and Jazz.
For information regarding lessons, please contact:
Tel.: 4086 3212
Mail: ethan@weisgard.com
---